20x25x1 Furnace Filter CAMFIL 30/30. Buy 12- or 24-Pack
Product Description
20x25x1 Furnace Filter

Buy in bulk and save when you choose from 12- or 24-pack. This 20x25x1 furnace filter measures :
19 1/2 x 24 1/2 x 7/8 inches. Use to replace any brand of filter. Don't hesitate to buy from us. We offer a hassle-free, affordable way to shop for air filters of all kinds. We always offer FREE SHIPPING to Canada via Canada Post. Thanks to the leader in air filtration, Camfil, we offer a quality Canadian made product for your convenience and peace of mind. Shipped within one business day if in stock.
Side-by-Side comparison.Helping you select the best option: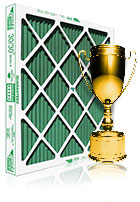 CAMFIL 30/30
MERV 8 - High Capacity 20x25x1 Furnace Filter featuring an Energy Cost Index rating of five stars. You can't beat that! This air filter lasts up to two months, saving you the time and hassle of replacement. This top rated MERV 8 filter by Camfil is mechanical rather than electrostatic, backed by the Camfil Performance Guarantee. Delivers best overall value for your needs.
You will receive 12 or 24 filters in each box when you order now. Buy in bulk now and you won't have to worry about buying a new filter for a long time to come! All products made in North America by the leader in air filtration, Camfil.
Good news, this item is In Stock, ready for FREE shipment in Canada within one business day. Share a box with your neighbor!
CAMFIL 30/30 - Read Complet Products Description>>
--------------------------------------
IMPORTANT: When returning an item, you, as the buyer, must cover shipping and handling fees.
NOTE: Out of stock? No problem at all. We can still get it to you; it just may take up to 10 business days to ship a special order item. We will always email you to notify you of the shipping date. The product you get in the mail may differ in appearance slightly from photos you see here.
Product Reviews