Is Good Customer Service Extinct?
The scene is all too typical: you placed an order online but something got screwed up and now you have to call and try to speak to a human in an effort to get it fixed. Or, maybe you saw a charge on your credit card bill that you didn't make and you have to rectify it – and soon. Maybe you signed up for a service but need to cancel or change it. All of these scenarios usually involves a phone call in an attempt to speak to a real live person. Is your heart rate going up yet?
You're not alone. Most people stress out about that dreaded phone call to customer service, even going so far as to put that call off as long as they can. Who wants to spend 20 minutes on the phone listening to bad elevator music while being bounced around a teleprompt system only to be put rudely on hold when they do reach a live person? This shows a basic breakdown in our customer service approach as a society that hasn't been fixed even by all the automated systems that are in place to make the whole process easier. In some ways, it makes it harder and more frustrating to face endless options on an automated menu.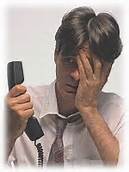 Mistakes in customer service are all too typical. Consider this: research shows that satisfied customers will tell two to three people about their good experience with a particular company, while dissatisfied customers will share their bad experience with between nine and 20 people. So, this begs the question: is good customer service going extinct?
Here at Montreal Filtration, this couldn't be further than the truth. Because we're a small business with a far reach, we have a small number of dedicated people working hard to ensure your complete satisfaction -- even when we screw up. That's the crux of the matter right there: good customer service isn't about being perfect and never making mistakes. It's inevitable that mistakes happen. What shouldn't be optional is how a company handles that mistake.
If a filter order doesn't reach you when we said it would or you were charged too much for an order, we take ownership of that mistake right away and fix it. When you call us, you speak to a real person with real solutions. You won't get lost in a menu of automated options. We believe the single most important offering a company can give its customers is superior, attentive, friendly service. Without this, you have nothing. Your customers are left unhappy and unhappy people don't become repeat customers. It costs much more money for a company to acquire customers than to retain them, so it stands to reason that the efforts that you put into maintaining good customer service will pay out dividends in the long run.
We believe that people who care make up the heart and soul of any business. After all, you're entrusting your hard-earned money to us so that we provide you with a product that will do what we say it will. Anyone can open up shop and sell something. It's what's behind it all that matters. This doesn't just begin and end with that initial order or phone call. It lasts throughout the entire customer lifecycle. We want to form lasting relationships with our customers to gain their trust, and we achieve that by giving options. Phone…email…chat…blog comments…however you want to communicate that's what we'll do.
The bottom line is, customer service for some companies may be going the way of the dodo bird, but it's not on the endangered species list just yet. Call us at Filtration Montreal to see what real customer service is all about!