Why is Camfil 30/30 a Better Choice?
And what's the difference between electrostatic filters vs. mechanical filters?
Camfil 30/30 furnace filters are a more efficient filter over the big names, plus they cost less too. As the only authorized residential reseller in Canada for Camfil brand filters, we guarantee you will enjoy a longer life span out of these filters as well as increased efficiency.
You may be confused when hearing all about the pros and cons of electrostatic filters vs. mechanical filters. What's the difference? Which one is better? In a nutshell, electrostatic filters discharge quickly and allow dust to penetrate, while mechanical filters are better at capturing dirt with higher efficiency rates over time. Many other brands feature electrostatic filters, but this begs the question: how good can your indoor air quality be if dust keeps getting through the filter barrier?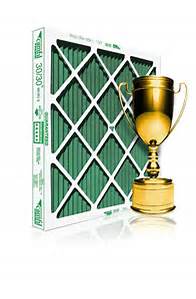 That's why we love Camfil so much – a trusted brand that bucks tradition and uses mechanical options instead to add more value and efficiency to your furnace operation. Understandably, you may get confused with the myriad of furnace filter options out there. You may mistakenly feel like you have to spend a lot of money to get the "best" just because you see a brand name on the box. This couldn't be further from the truth.
Trying Camfil 30/30 instead will give you higher efficiency results – the same you get from the big box names – but you'll spend a lot less. Some benefits to Camfil 30/30 include anything from maximum dust retention to higher performance. As such, you'd be smart to choose mechanical filters over electrostatic ones. Let's go into more detail as to why.
Better dust retention: Choosing MERV 8 mechanical media as part of the Camfil 30/30 will help your furnace more effectively capture dirt and maintain efficiency over the product's life span. Because electrostatic filters, by contrast, discharge quickly and encourage dust penetration or accumulation, you experience less efficiency.
Better performance: When you know that the Camfil 30/30 is guaranteed to perform at its rated efficiency throughout its life span, why would you choose anything else? You may think that the MERV sounds good, but the MERV 11 and 13 sound even better, right? Not so. The MERV 8 is all you need for a typical residential furnace. Those higher numbers are best reserved for commercial and industrial applications.
Better prices: Don't get suckered into thinking you need to pay out the wazoo for name brands. Get the same or better quality, efficiency, value and life span when you purchase Camfil 30/30. Period.
Now you know: Camfil 30/30 is a great choice for your furnace filters. Oh yeah, and they're guaranteed to last twice as long as other MERV 8 panel filters , plus they come with a 5-star Energy Cost Index rating. Place your order today with Filtration Montreal!