We are Your Number One Source for Furnace Filters, Montreal!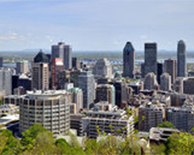 It's always good to have a few pleated air filters on hand in case you suddenly need to change one. This way, you don't have to wait in between changing filters, which keeps your home's air consistently clean and healthy. Stock up on furnace filters with us, as we are your number one supplier of filters in Canada. Not only do we have the best products, including Camfil 30/30, we also ship your items for FREE to anywhere in Canada.
Rely on us to ship out your furnace filters, Montreal, quickly and free of charge for Canada Post. With 90 percent of Canadians unable to find the right pleated air filters for their needs locally, we are happy to fill that void and provide you with a quick, safe and convenient way to order the AC and furnace filters you need – all from the comfort of home. One would assume that Montreal, one of Canada's largest cities, would have plenty of air filters available for purchase, but it's simply not true.
We can be your go-to provider of filters. All you have to do is try us once and you'll be convinced. Our Canadian-made pleated panel filters for Montreal and anywhere else in Canada for that matter, give you a hassle-free way to shop for what you need the most. Our products keep your home's air healthy and pollution free. With inside air capable of becoming just as dirty as outside air without the proper filtration, it's crucial that you keep your A/C and furnace running in tip-top shape.
We are the only store in Canada that sells the new Camfil 30/30, so choose us for industry-leading products that easily and efficiently filter out pesky allergens from the air in your home. If you have children or elderly people living in your home, especially those suffering from chronic asthma and allergies, that's even more reason to keep your air as healthy as possible.
Place your order today and start enjoying the benefits of shopping through us. Order a pack of filters now and split the order with your neighbor for even more savings. Tell your friends about us, too.
When you sign up for our handy online newsletter, you'll never miss out on a deal.