How to find the right size furnace filter
Ins and Outs of Choosing the Right Furnace Filter Sizes
Order correctly the first time and save time and hassle later
Sounds easier said than done, right? Especially when you see all the many sizes available for sale on our site or in the stores. However, determining the right fit can be difficult if you're unfamiliar with the exact sizes. If you order incorrectly, you'll have to send your filter back to us. That's why a big part of our customer service goes towards helping you select the right size BEFORE you hit the BUY button. First off, why not check out our furnace filters sizes page for a little guidance?
Tips
Life would be so much easier if the old filter you're taking out of your furnace had the size prominently displayed on it but that isn't always the case. Maybe you just bought the furnace or the house in which the furnace is located. Sometimes you're going in blind to the process and need a little help. Get a measuring tape and remember: the exact filter size is measured in fractions of an inch AND furnace filters have both nominal and actual dimensions . That means if your filter has an actual measured dimension of 15½" x 24¾" x ¾", choose a nominal dimension of 16" x 25" x 1".
In many instances, you'll need to round up to the nearest inch to account for the frame of the filter. While you want a snug fit when putting in your new filter, you never want to force it. This often leads to tearing or buckling, making it useless. It's best to measure each dimension of your current furnace filter, then order the one with the closest nominal match.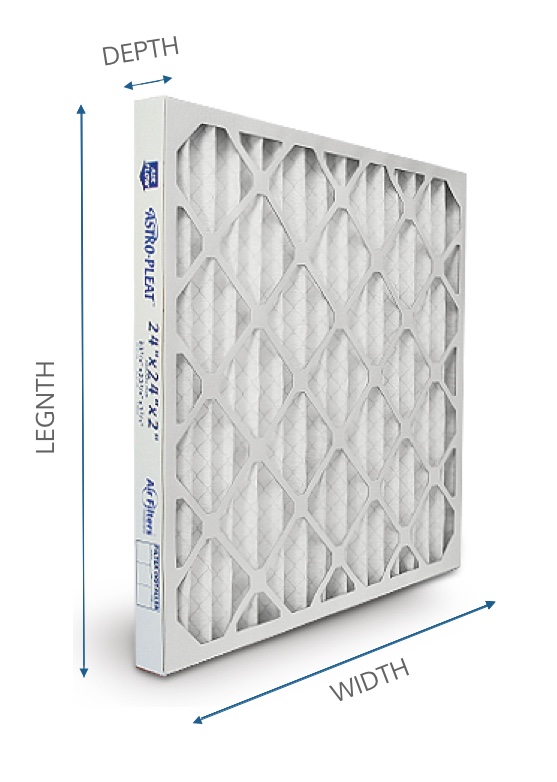 Exact Size
Many people mistakenly think they have to order by furnace model number. Truth is, most furnaces will take any brand so long as the measurements match. Case in point: we carry Camfil filters, which are the generic equivalent of Carrier yet perform just as well at a much lower price . They both go by the same dimensions.
Also, when determining measurements, keep in mind that the arrangement of height and width in the filter description can go either way. In other words, 16" x 25" x 1" filters and 25" x 16" x 1" filters would be interchangeable.
No Previous Filter
Sometimes, new Canadian homeowners discover there is no previous filter in place, which makes it difficult to know what goes in that space. In this case, simply measure the space where the filter should go, in the air cleaner box or furnace dock, and round up to the nearest inch.
If you're still having a tough time determining which filter to choose on our site yet don't want to make a commitment to buying in bulk until you're certain, give us a call. Just have the measurements handy and we'd be happy to point you in the right direction. After all, we want you to be happy with your selection. Plus, the sooner you can get FREE, fast shipping in Canada, the better!